Succulent wings marinated and glazed in honey & Sriracha sauce
Button mushrooms sauteed with peppers, garlic and chillies
Diced potatoes dipped in all purpose flour batter and fried until golden crisp
Avocado, cherry tomatoes, mixed leaves, red onions, coriander with lemon & vinegar dressing.  Add chicken £2.00
Traditional Kenyan style salad of onions, tomatoes and dhania
Nyama Choma means "Grilled Meat" in Swahili. It is very popular in Kenya, Tanzania, Uganda and some other parts of East Africa. 
BBQ Goat ribs grilled over hot fire
Grilled tender lamb chops in hot and spicy rub
Fire roasted Lamb Shoulder, seasoned in vibrant Kenyan spices. 0.5kg/ 1kg
Succulent flame grilled chicken coated with in house marinade. Half/Whole
Quarter chicken, 0.25kg lamb shoulder, 0.25kg goat ribs, 2pcs lamb chops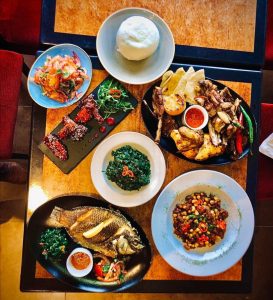 Traditional dishes cooked in vibrant & fragrant Kenyan spices.
Traditional Kenyan Style Tilapia Fish
This dish can be served in rich tomato sauce or dry. Dry fried with a side of Kachumbari. 
Lamb on the bone braised in fragrant spices, finished with dhania. Served with rice. G.E
Succulent pieced of corn-fed chicken braised in tomato and Kenyan spices. Served with rice
Red kidney beans bursting in gorgeous flavours, cooked in red chillies and creamy coconut sauce. Contains Coconut Milk*
Kenya's traditional dish of maize and beans, cooked in spices, herbs and dhania.
Traditional Est African dish of green bananas cooked in tomatoes, onions, chillies and Kenyan spices. Finished with dhania
Collard greens fried in onions, tomatoes, herbs and spices
Chicken fillet and mayo in a bun
Chicken sausage served in a roll with chips
Spaghetti cooked in tomato sauce
Sautéed potatoes diced, shallow fried in fresh herbs & spices
Fried Cassava chips garnished with garlic, chillies and house spices
Fragrant pilau rice cooked in vibrant spices
Seasoned vegetables marinated in herbs & spices